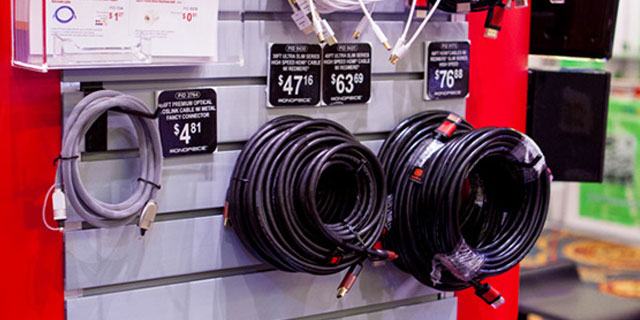 "I thought you just offered cables."
E-commerce Leader Impresses Skeptical CES Crowd with New MHD Action Cam, High End LED Monitors and other low priced Quality products.
It was a common comment heard from visitors to the Monoprice booth for the first three days of the Consumer Electronics Show in Las Vegas.
"I thought you just offered cables."
At CES it is so easily to get lost as a company in the hype and clamor over the latest hot gadget, but Monoprice managed to create a buzz anyway.
Drawing the most attention were Monoprice's new product launches, including the MHD Action Cam, high end LED monitors, home theater, gaming, networking, and pro audio products.
Old company fans and new potential ones marveled at the Action Cam footage, the resolution of the High End LED monitors, and the vast array of products Monoprice displayed in its booth, and of course the unbeatable pricing displayed strategically with price tags.
One enthusiastic fan actually set up his amp and played Monoprice's Route 66 Classic Guitar in our booth. "It plays great," he said. "It feels, plays and sounds just like a $300 guitar." And he couldn't get over the $129 cost for this new Monoprice guitar.
Even the toughest crowd of all – the media – was intrigued by the Monoprice booth.
Monoprice also caught Tested.com's attention with the LED monitor. The Tested.com crew is from Discovery Channel's TV show, MythBusters.
Alan Wolf wrote a profile on Monoprice with several photos as part of the magazine's CES issue focusing on the impact Monoprice is having in the tech accessories industry. They also added a side bar on Monoprice's LED Monitor. Monoprice's monitors also were included in the day 1 and day 3 versions of the CES Daily Magazine.
Veteran tech reporter Peter Ha paid the Monoprice a visit and came away enthused about Monoprice's Action Cam writing an article about it with photos. Gizmodo also posted actual footage footage from the cam.
Peter also interviewed CEO Ajay Kumar for an upcoming business story.
Other notable media visitors to the Monoprice booth included LA Times' Salvador Rodriguez, CNET, Wirecutter, Custom Retailer Magazine, Target PC, Barron's , CE Pro, among others.
Monoprice Media Links:
Tested.com = CES 2013: Monoprice Announces 27-Inch 2560×1440 Monitor for $390
Twice.com = Monoprice.com Expanding Low-Cost Model
Twice.com = Monoprice Adds Networking Gear, Apple Accessories
Gizmodo = Here's Your First Look At Monoprice's Insanely Cheap Action Camera
There is only one day left of CES, but it is more than obvious Monoprice has already caught the attention of the jaded CES tech crowd easily wowed by the latest gadget as a company to watch that is growing beyond its humble beginnings and making impact in a number of new and exciting markets.