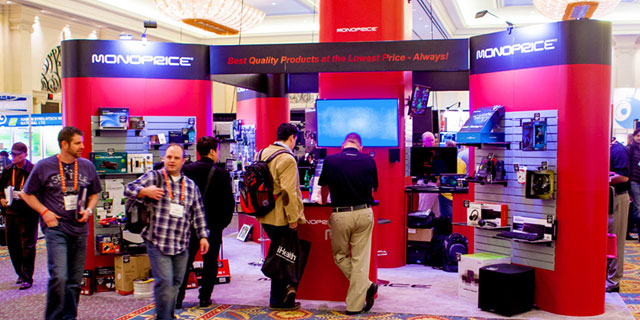 "MONOPRICE'S DEFINING MOMENT"
There's a defining moment in the history of every growing company where it reveals who it is and its potential.
That was CES 2013 for Monoprice.
A bigger booth and more intriguing products were only part of the story. On the consumer electronics industry's biggest stage, Monoprice not only intrigued long time and potential customers with its new product offerings, but it also impressed the gadget obsessed and fickle CES media.
It was apparent to all that took notice that the little cable company that could was fast becoming an e-commerce force to be reckoned with. This was obvious to many who visited our booth at CES.
Media from CNET and the L.A. Times to Gizmodo and the Wirecutter were more than fascinated with Monoprice's Action Cam, high end LED monitors, gaming and the Pro Audio Series products. You could see it in their eyes and hear it in their questions a growing realization of Monoprice's potential as an emerging e-commerce player.
Once the Internet's best kept secret. Now, Monoprice is a company to watch and on the radar of influential media eager to find out more.
Yet this year's CES is only one milestone in what is shaping into a promising Monoprice future.
At next year's CES, Monoprice moves into the big hall – with a booth in the Las Vegas Convention Center.
Expect even bigger and better things from Monprice.