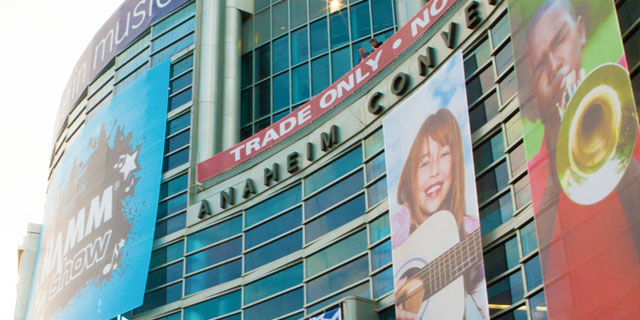 Monoprice Brings the Noise!
Introducing its New Pro Audio Series in its NAMM Show Debut
That was CES 2013 for Monoprice.
As musical debuts go, it proved a memorable one.
Monoprice created some lasting noise about its new Pro Audio Series products during its first appearance at NAMM 2013 held at the Anaheim Convention Center.
Quite literally.
Numerous impromptu jam sessions took place in the Monoprice booth(which was located in the DJ and Lighting Arena) throughout the four days of the NAMM show as visitors, long time and new customers tried out the company's new guitars – "California Classic" and "Route 66 Vintage" and were stunned by the new products high quality design and low prices.
Monoprice also featured functioning demonstrations of its microphones, mixers, headphones and studio monitors, enabling visitors to try out the company's growing line of pro audio products.
There were also a number of memorable performances in the Monoprice booth.
Check them out here:
Mike Etchart, host of Sound and Vision Magazine's radio show, also featured Monoprice on his show.
Sound and Vision Magazine Radio about our new pro audio products.
You can download the radio interview on iTunes:
Bobby Owsinski who writes The Big Picture Music Production blog, also wrote about Monoprice and is looking to try out our new pro audio products:
Joseph Lemmer of Tape Op Magazine also wrote a rave review about our DJ headphones. He is also testing out our new large diaphragm dondenser microphone and will write a review shortly.
A number of additional media are also eager to try out Monoprice's Pro Audio Series products.
Monoprice also offers guitar picks and strings, guitar stands, a mini headphone amplifier for guitar, music mounts for iPad, and other accessories and will continue to expand on its Pro Audio Series with plans to offer keyboards and other percussive instruments in the coming year.
Following its successful initial NAMM experience, Monoprice is looking to kick up a racket with its expanded Pro Audio Series in Nashville this July at the NAMM EAST.
Music City may never be same.